What's "Pesoguin"?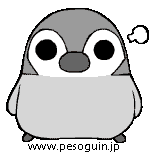 "Pesoguin" is an imaginary animal similar to an emperor penguin's baby, which lives on the Internet, PCs, and mobile phones.
Images of Pesoguin are appearing on Web sites and e-mails more and more often these days.
Pesoguin has recently expanded its habitat into the real world as a stuffed animal and a character in a four-frame comic strip book.
At the moment Pesoguin inhabits both a virtual and a real world. Who knows in the future we could even see Pesoguin as a robot?
"Penguin"? , NO! "PESOGUIN"!
Commercial development of Pesoguin
SNS Account
Android Apps
---
Blog Parts (Free)
Written in Japanese
Vista Gadget (Free)
Written in English
---
Written in Japanese
---
iGoogle Gadget (Free)
Written in Japanese
---
Google Desktop Gadget(Free)
---